The Rupestral Crypt at Fornello. An Axis for a Sustainable Conservation in Apulia
Palabras clave:
conservation, rupestral paintings, caves, calcarenite, medieval, frescos, sustainability
Resumen
n this paper I put forward the claim that, Sant Angelo, the rupestral crypt at the site called Fornello, represents one of the very remarkable examples of that kind in the Apulia region, emphasizing furthermore its particular potential as a sustainable conservation pylon in the context of a larger ensemble of surrounding caves. The frescoed crypt designates the referential axis for such a project which should reconnect in a sustainable way, the church, the caves, the rural agrarian area and the people, in a favorable cycle of mutual benefit for tangible and intangible heritage. Our research becomes a pioneer to support an in-depth, on-site study of the three superimposed layers of frescos decorating the crypt. The study reveals new aspects of the Liturgical meaning of the frescos, as it also exhibits further relevant information describing the use of the caves through the ages, envisaging hereby a sustainable conservation perspective for the site.
Descargas
La descarga de datos todavía no está disponible.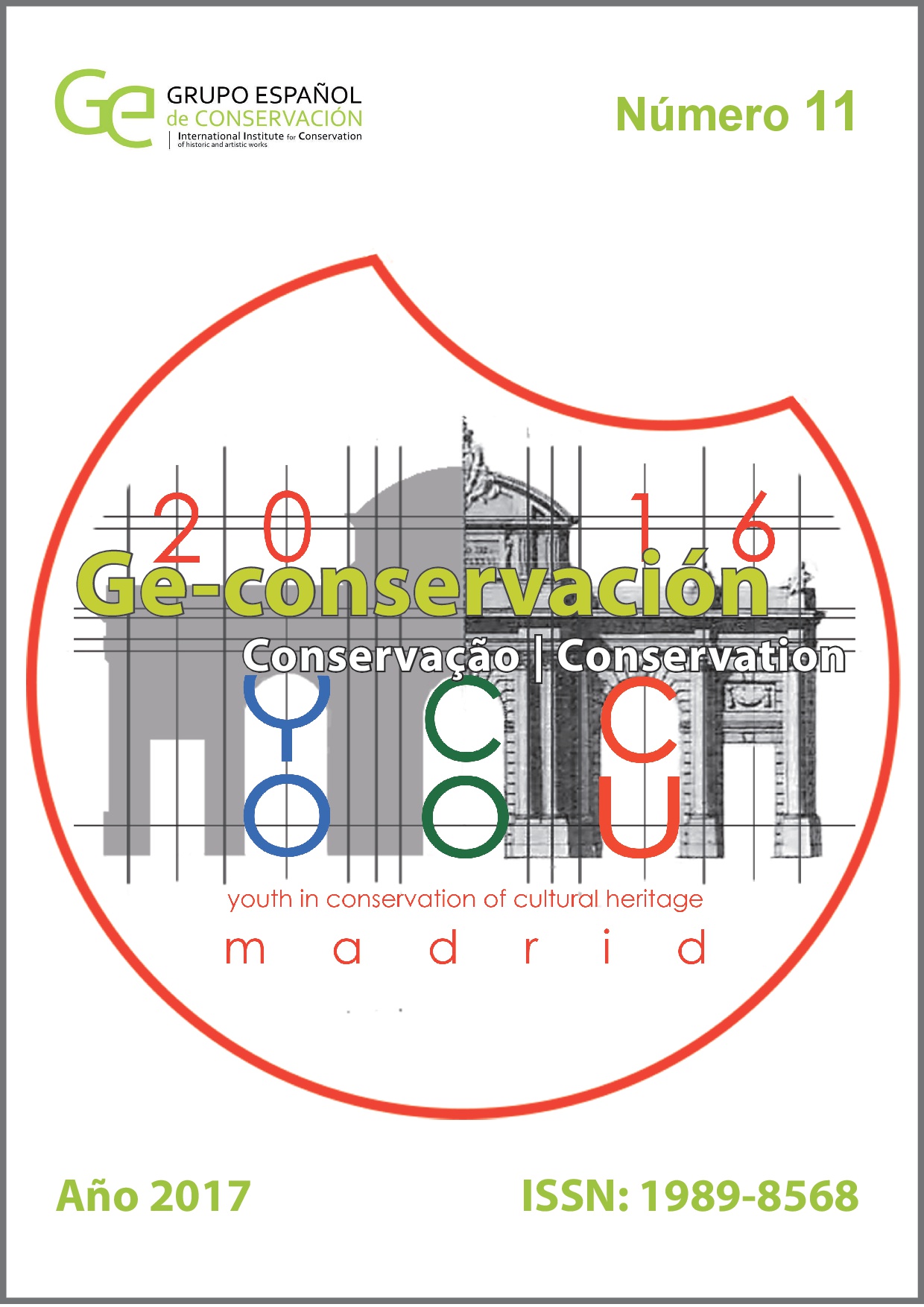 Cómo citar
Petcu, F. A. (2017). The Rupestral Crypt at Fornello. An Axis for a Sustainable Conservation in Apulia. Ge-Conservacion, 11, 114-120. https://doi.org/10.37558/gec.v11i0.461
Los autores conservan los derechos de autor y propiedad intelectual, y garantizan a la revista Ge-Conservación y al GEIIC el Copyright© de los derechos de edición y publicación por cualquier medio y soporte. Las obras de dichos autores además se pueden publicar bajo una Creative Commons Attribution License que autoriza ser distribuido gratuitamente, copiado y exhibido por terceros si se muestra en los créditos la autoría y procedencia original en esta revista, y no se puede obtener ningún beneficio comercial por parte de terceros, ni tampoco se pueden realizar obras derivadas.
Los artículos podrán ser utilizados para fines científicos y formativos, pero nunca con fines comerciales, expresamente sancionado por la Ley.
La información contenida en los artículos es responsabilidad exclusiva de los autores.
La revista Ge-Conservación y los autores pueden establecer por separado acuerdos adicionales para la distribución no exclusiva de la versión de la obra publicada en la revista (por ejemplo, situarlo en un repositorio institucional o publicarlo en un libro), con un reconocimiento de su publicación inicial en esta revista.
Se permite y se anima a los autores a difundir sus trabajos electrónicamente (por ejemplo, en repositorios institucionales o en su propio sitio web) después de su publicación en la revista Ge-Conservación, ya que puede dar lugar a intercambios productivos, así como a una citación más temprana y mayor de los trabajos publicados por el autor.
Los datos personales suministrados por los autores únicamente serán utilizados para los fines de la revista y no serán proporcionados a terceros.