Giancarlo de Carlo's University Colleges in Urbino. Studies and analysis for the Conservation Plan
Maria Paola Borgarino

Politecnico di MilanoDipartimento ABC - Architecture, Built Environment and Construction Engineering
Palabras clave:
conservation plan, modern heritage, preventive conservation, heritage preservation, condition assessment
Resumen
The contribution presents part of activities that have been carried out for the preparation of the Conservation Plan of the Giancarlo De Carlo's University Colleges of Urbino, funded by the Getty Foundation within the "Keeping it Modern" program in 2015.
Starting form a comprehensive evaluation and understanding of the values that are represented in the complex, the Conservation Plan aims at establishing a "sustainable" management strategy, which means finding a "point of balance" between conservation and change, between an important cultural value, which has led to an international recognition, and the demands of everyday management. 
Within the Conservation Plan, specific guidelines for the preservation of modern materials and architectural elements and a schedule of interventions, preventive activities and controls are being developed. This paper presents the first steps of the research, the results already achieved and the themes currently being discussed.
Descargas
La descarga de datos todavía no está disponible.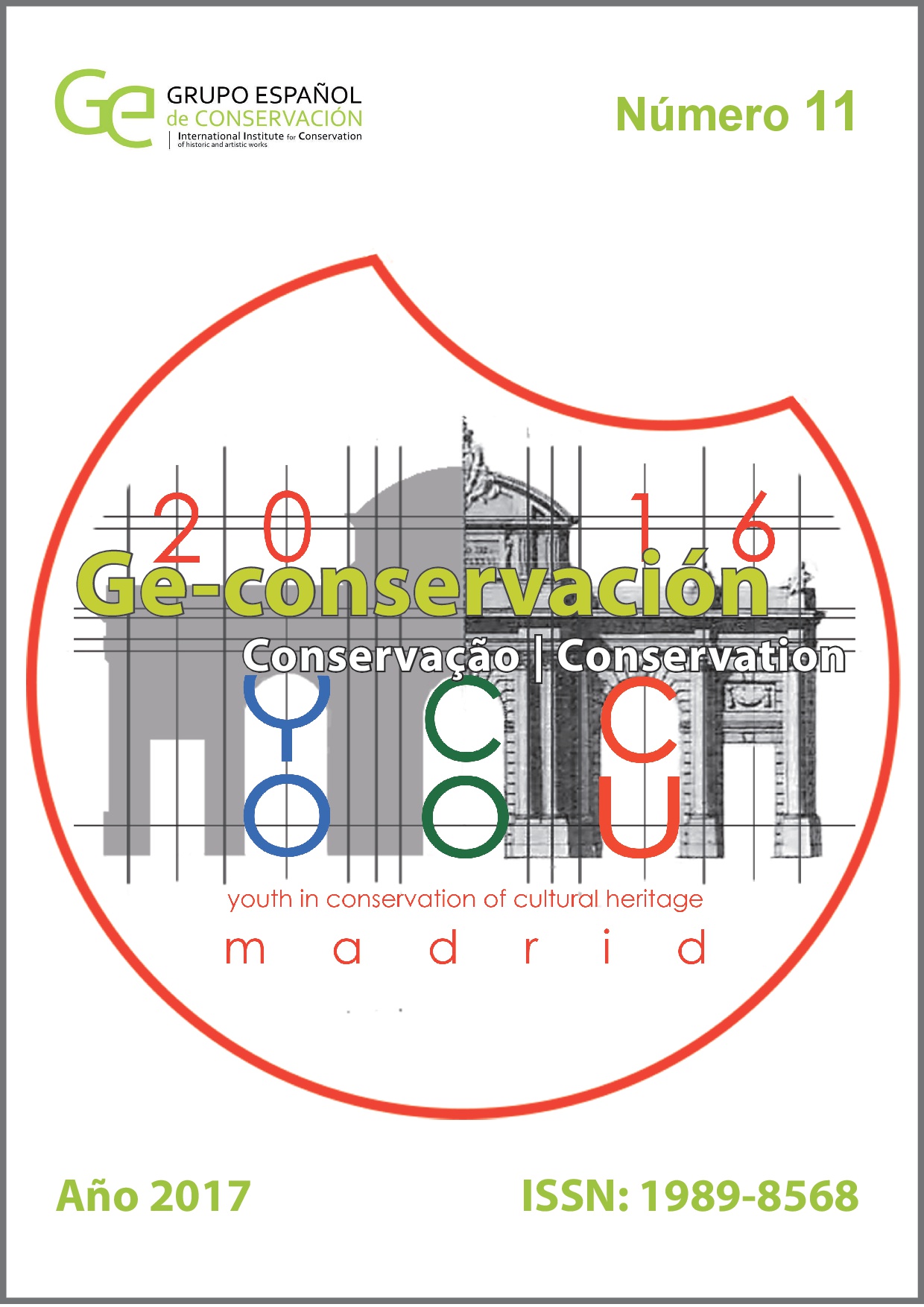 Cómo citar
Borgarino, M. P. (2017). Giancarlo de Carlo's University Colleges in Urbino. Studies and analysis for the Conservation Plan. Ge-Conservacion, 11, 286-291. https://doi.org/10.37558/gec.v11i0.510
Los autores conservan los derechos de autor y propiedad intelectual, y garantizan a la revista Ge-Conservación y al GEIIC el Copyright© de los derechos de edición y publicación por cualquier medio y soporte. Las obras de dichos autores además se pueden publicar bajo una Creative Commons Attribution License que autoriza ser distribuido gratuitamente, copiado y exhibido por terceros si se muestra en los créditos la autoría y procedencia original en esta revista, y no se puede obtener ningún beneficio comercial por parte de terceros, ni tampoco se pueden realizar obras derivadas.
Los artículos podrán ser utilizados para fines científicos y formativos, pero nunca con fines comerciales, expresamente sancionado por la Ley.
La información contenida en los artículos es responsabilidad exclusiva de los autores.
La revista Ge-Conservación y los autores pueden establecer por separado acuerdos adicionales para la distribución no exclusiva de la versión de la obra publicada en la revista (por ejemplo, situarlo en un repositorio institucional o publicarlo en un libro), con un reconocimiento de su publicación inicial en esta revista.
Se permite y se anima a los autores a difundir sus trabajos electrónicamente (por ejemplo, en repositorios institucionales o en su propio sitio web) después de su publicación en la revista Ge-Conservación, ya que puede dar lugar a intercambios productivos, así como a una citación más temprana y mayor de los trabajos publicados por el autor.
Los datos personales suministrados por los autores únicamente serán utilizados para los fines de la revista y no serán proporcionados a terceros.