Influence of inorganic and organic additives on spectrophotometry of lime mortars
Judith Alejandra Velazquez

Universidad Michoacana de San Nicolás de Hidalgo

Wilfrido Martínez Molina

Universidad Michaocana de San Nicolás de Hidalgo

Elia Mercedes Alonso Guzmán

Universidad Michaocana de San Nicolás de Hidalgo

Hugo Luis Chávez García

Universidad Michaocana de San Nicolás de Hidalgo

Mauricio Arreola Sanchez

Universidad Michaocana de San Nicolás de Hidalgo
Resumen
Variation in colors in lime base mortars by adding materials like clay, manufacturing brick ash, quarry powder, and maize starch have been analyzed in this research. Such additions were compared with a sample mortar made only of sand and clay. In order to quantify the color, Chromatic coordinates, expressed in coordinates C.I.E. (L*, a* and b*) were measured. These analyses determine the median chromatic coordinates which are between red and yellow, maybe as orange. To design a mortar in that original color the measured values L*, a* and b* were taken into account. The present work shows the results of color of lime mortars which provides acceptable aesthetic results according to the original colors of the monuments that is intended to be restored but without diminishing the mechanical resistance of them.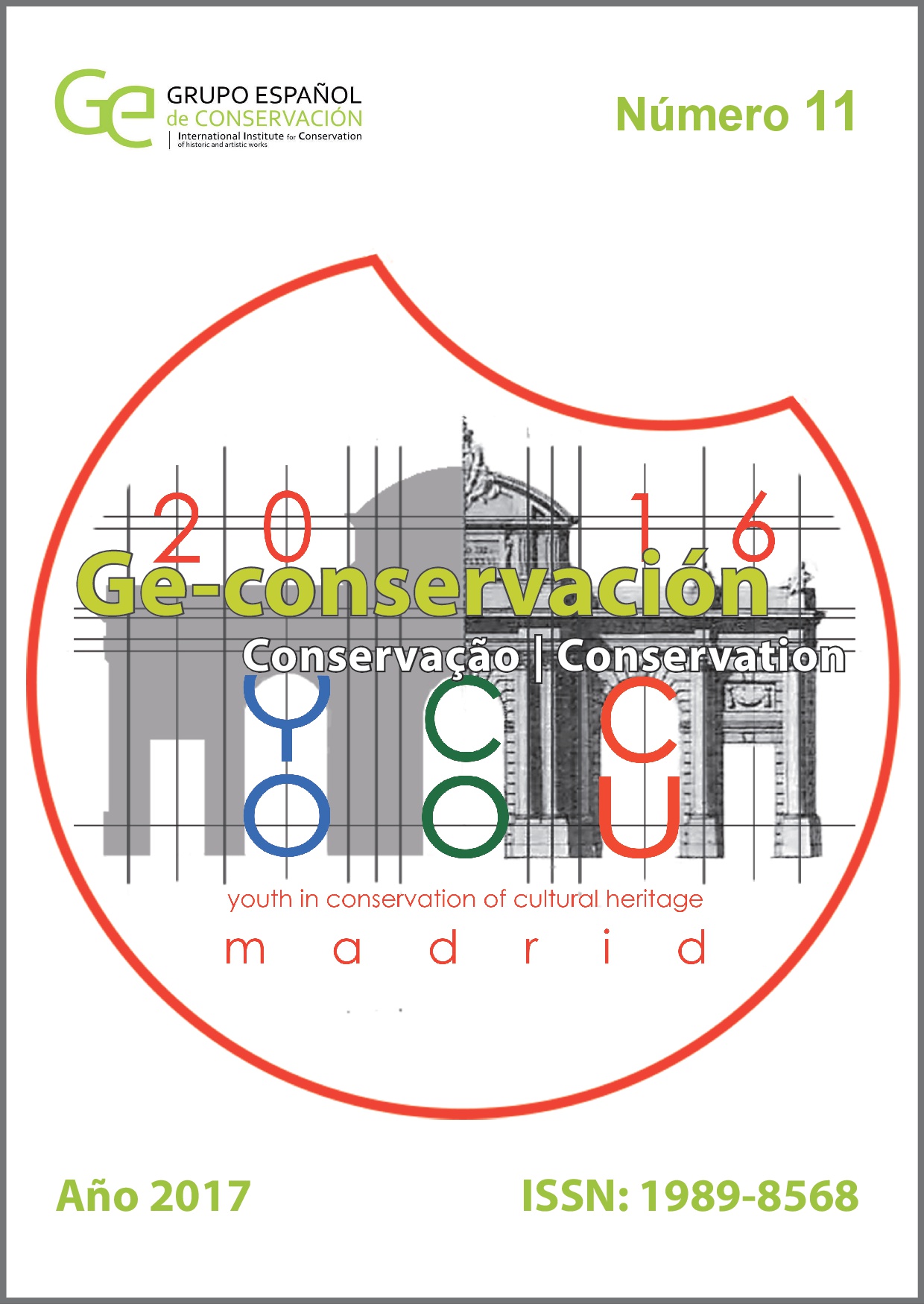 Cómo citar éste artículo
VELAZQUEZ, Judith Alejandra et al. Influence of inorganic and organic additives on spectrophotometry of lime mortars.
Ge-conservación
, [S.l.], v. 1, n. 11, p. 292-299, jul. 2017. ISSN 1989-8568. Disponible en: <
http://www.ge-iic.com/ojs/index.php/revista/article/view/511
>. Fecha de acceso: 21 ene. 2018
Palabras clave
Spectrophotometry, clay, mineral additions, mortars, restoration.



Los autores conservan los derechos de autor y propiedad intelectual, y garantizan a la revista Ge-Conservación y al GEIIC el 

Copyright© de los

derechos de edición y publicación por cualquier medio y soporte. Las obras de dichos autores además se pueden publicar bajo una Creative Commons Attribution License que autoriza

ser distribuido gratuitamente, copiado y exhibido por terceros si se muestra en los créditos la autoría y procedencia original en esta revista, y no se puede obtener ningún beneficio comercial por parte de terceros, ni tampoco se pueden realizar obras derivadas.

Los artículos podrán ser utilizados para fines científicos y formativos, pero nunca con fines comerciales, expresamente sancionado por la Ley.
La información contenida en los artículos es responsabilidad exclusiva de los autores.
La revista Ge-Conservación y los autores pueden establecer por separado acuerdos adicionales para la distribución no exclusiva de la versión de la obra publicada en la revista (por ejemplo, situarlo en un repositorio institucional o publicarlo en un libro), con un reconocimiento de su publicación inicial en esta revista.
Se permite y se anima a los autores a difundir sus trabajos electrónicamente (por ejemplo, en repositorios institucionales o en su propio sitio web) después de su publicación en la revista Ge-Conservación, ya que puede dar lugar a intercambios productivos, así como a una citación más temprana y mayor de los trabajos publicados por el autor.
Los datos personales suministrados por los autores únicamente serán utilizados para los fines de la revista y no serán proporcionados a terceros.