Use of telemetry X-ray techniques in large-size pictorial works
Jose Antonio Madrid Garcia

Dpto. De Conservación y Restauración de Bienes Culturales. Universitat Politècnica de Valencia (UPV).
Palabras clave:
pictorial works, X-ray, radiology, telemetry X-ray techniques, large size paintings
Resumen
In recent years, with the rise of digital technologies and the concurrent demise of related analog instrumentation, researchers in the field of cultural heritage have faced significant new challenges implementing digital solutions.
Specifically, this shift has prompted the use of new protocols for the application of radiology in the study of art works.. However, due to this change, there has been a return to using older film formats, which is one of the problems that has already been solved using an industrial-type analogical system that allowed large-format X-ray support, and that was able to adapt to almost any surface.
Therefore, this study attempts to rectify the limits of digital X-ray techniques by using telemetry X-ray techniques. At the Laboratory of Documentation and Registration (IRP, or Institute for the Heritage Restoration), based at the Universitat Politècnica de Valencia (UPV), Spain, mobile telemetry X-ray equipment has been designed and implemented that allows the adaptation of large-size pictorial works.
Descargas
La descarga de datos todavía no está disponible.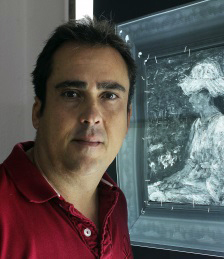 Cómo citar
Madrid Garcia, J. A. (2013). Use of telemetry X-ray techniques in large-size pictorial works. Ge-Conservacion, 5, 101-109. https://doi.org/10.37558/gec.v5i0.170
Los autores conservan los derechos de autor y propiedad intelectual, y garantizan a la revista Ge-Conservación y al GEIIC el Copyright© de los derechos de edición y publicación por cualquier medio y soporte. Las obras de dichos autores además se pueden publicar bajo una Creative Commons Attribution License que autoriza ser distribuido gratuitamente, copiado y exhibido por terceros si se muestra en los créditos la autoría y procedencia original en esta revista, y no se puede obtener ningún beneficio comercial por parte de terceros, ni tampoco se pueden realizar obras derivadas.
Los artículos podrán ser utilizados para fines científicos y formativos, pero nunca con fines comerciales, expresamente sancionado por la Ley.
La información contenida en los artículos es responsabilidad exclusiva de los autores.
La revista Ge-Conservación y los autores pueden establecer por separado acuerdos adicionales para la distribución no exclusiva de la versión de la obra publicada en la revista (por ejemplo, situarlo en un repositorio institucional o publicarlo en un libro), con un reconocimiento de su publicación inicial en esta revista.
Se permite y se anima a los autores a difundir sus trabajos electrónicamente (por ejemplo, en repositorios institucionales o en su propio sitio web) después de su publicación en la revista Ge-Conservación, ya que puede dar lugar a intercambios productivos, así como a una citación más temprana y mayor de los trabajos publicados por el autor.
Los datos personales suministrados por los autores únicamente serán utilizados para los fines de la revista y no serán proporcionados a terceros.