Asilah Arts Festival (Morocco): encounters in the urban space
Palabras clave:
Festival, Asilah, intercultural exchange, heritage preservation
Resumen
This essay aims to present Asilah Arts Festival through its history, program and outcomes, as an interactive platform for international and local cultural interchange and diffusion but especially, as the essential preservative source it still is, particularly regarding the town's urban and architectural ensemble and the national and international, material and immaterial legacy it celebrates. The methodology for this research combined a critical bibliographical analysis, followed by a three weeks stay in the Moroccan town carrying out fieldwork that included interviews, visits to sites of interest or participation in the event's activities. The results obtained from this investigation have in this paper been grouped in four sections: "Urban and architectural heritage", "Cultural heritage", "Social impact" and "Everyday life". These tackle how the event affects local economy, contributes to the population's education, raises awareness towards the importance of the patrimony's safeguarding or renders explicit the value of the town's quotidian existence.
Descargas
La descarga de datos todavía no está disponible.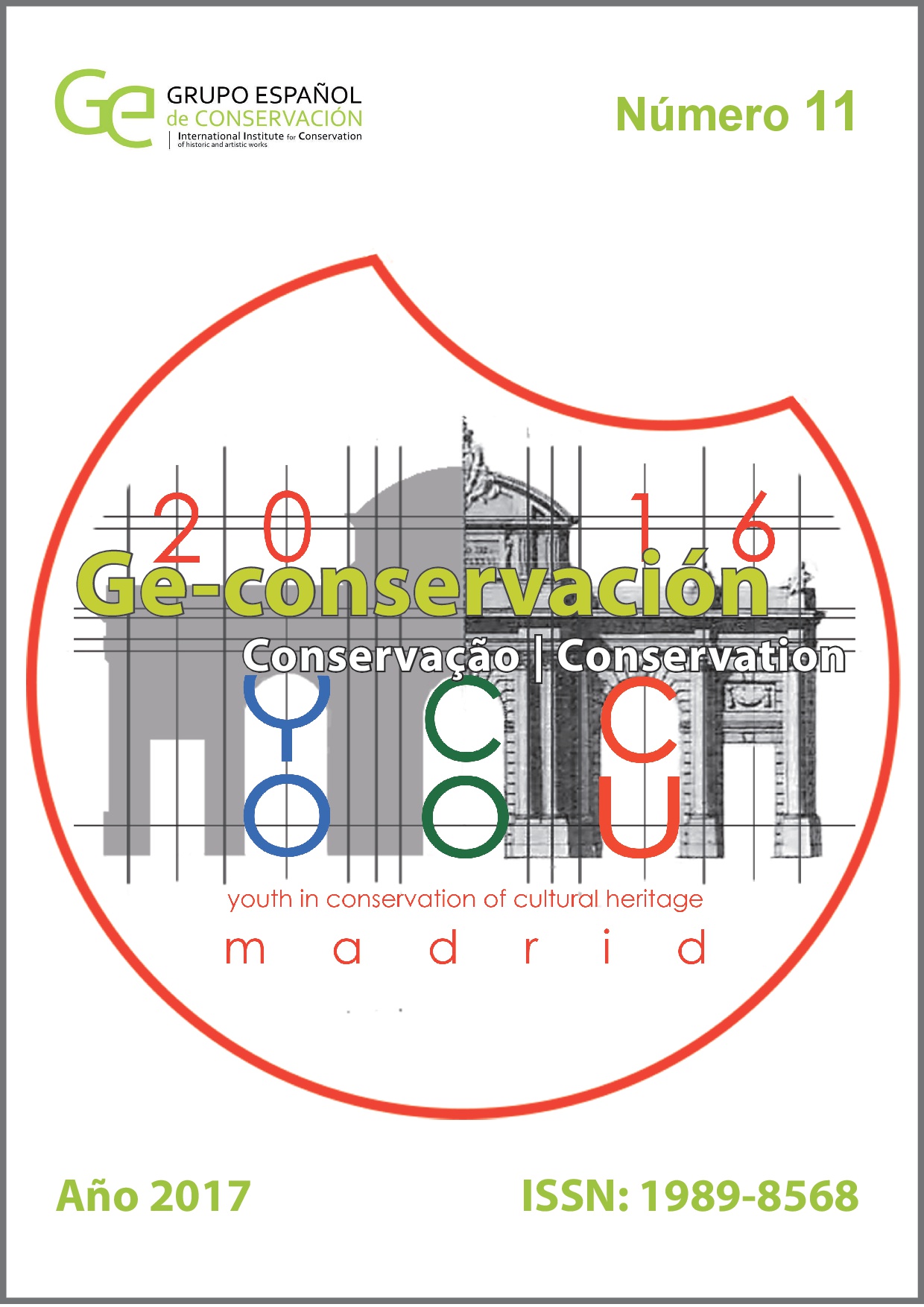 Cómo citar
Gómez López, M. (2017). Asilah Arts Festival (Morocco): encounters in the urban space. Ge-Conservacion, 11, 10-16. https://doi.org/10.37558/gec.v11i0.429
Los autores conservan los derechos de autor y propiedad intelectual, y garantizan a la revista Ge-Conservación y al GEIIC el Copyright© de los derechos de edición y publicación por cualquier medio y soporte. Las obras de dichos autores además se pueden publicar bajo una Creative Commons Attribution License que autoriza ser distribuido gratuitamente, copiado y exhibido por terceros si se muestra en los créditos la autoría y procedencia original en esta revista, y no se puede obtener ningún beneficio comercial por parte de terceros, ni tampoco se pueden realizar obras derivadas.
Los artículos podrán ser utilizados para fines científicos y formativos, pero nunca con fines comerciales, expresamente sancionado por la Ley.
La información contenida en los artículos es responsabilidad exclusiva de los autores.
La revista Ge-Conservación y los autores pueden establecer por separado acuerdos adicionales para la distribución no exclusiva de la versión de la obra publicada en la revista (por ejemplo, situarlo en un repositorio institucional o publicarlo en un libro), con un reconocimiento de su publicación inicial en esta revista.
Se permite y se anima a los autores a difundir sus trabajos electrónicamente (por ejemplo, en repositorios institucionales o en su propio sitio web) después de su publicación en la revista Ge-Conservación, ya que puede dar lugar a intercambios productivos, así como a una citación más temprana y mayor de los trabajos publicados por el autor.
Los datos personales suministrados por los autores únicamente serán utilizados para los fines de la revista y no serán proporcionados a terceros.