Influence of the calcination process in traditional gypsum with structural behavior
Pedro Bel-Anzué

Antonio Almagro

María Paz Sáez Pérez

Carlos Rodriguez-Navarro
Palabras clave:
calcination, oven construction., structural, traditional, gypsum, oven construction
Resumen
Gypsum is used as a finishing material with a principal aesthetical purpose. It is assumed that this binder has a poor structural behavior. However, it is also found as a structural material in many ancient constructions. In Spain there are several examples of architectural heritage with structures, floors and façades made of pure gypsum. In the studied area (Teruel), traditional gypsum represents the main material used in its architectural heritage. Nowadays, commercial gypsum is being used in restorations, but the different behavior between current and traditional gypsum results in non-compatible restorations. Here, we analyze the traditional gypsum calcination process by building two traditional ovens, assisted by locals masons, and we study how the differences in the calcination procedure can generate different gypsum products, which can be used either as a finishing material or as a structural material with a high mechanical resistance.
Descargas
La descarga de datos todavía no está disponible.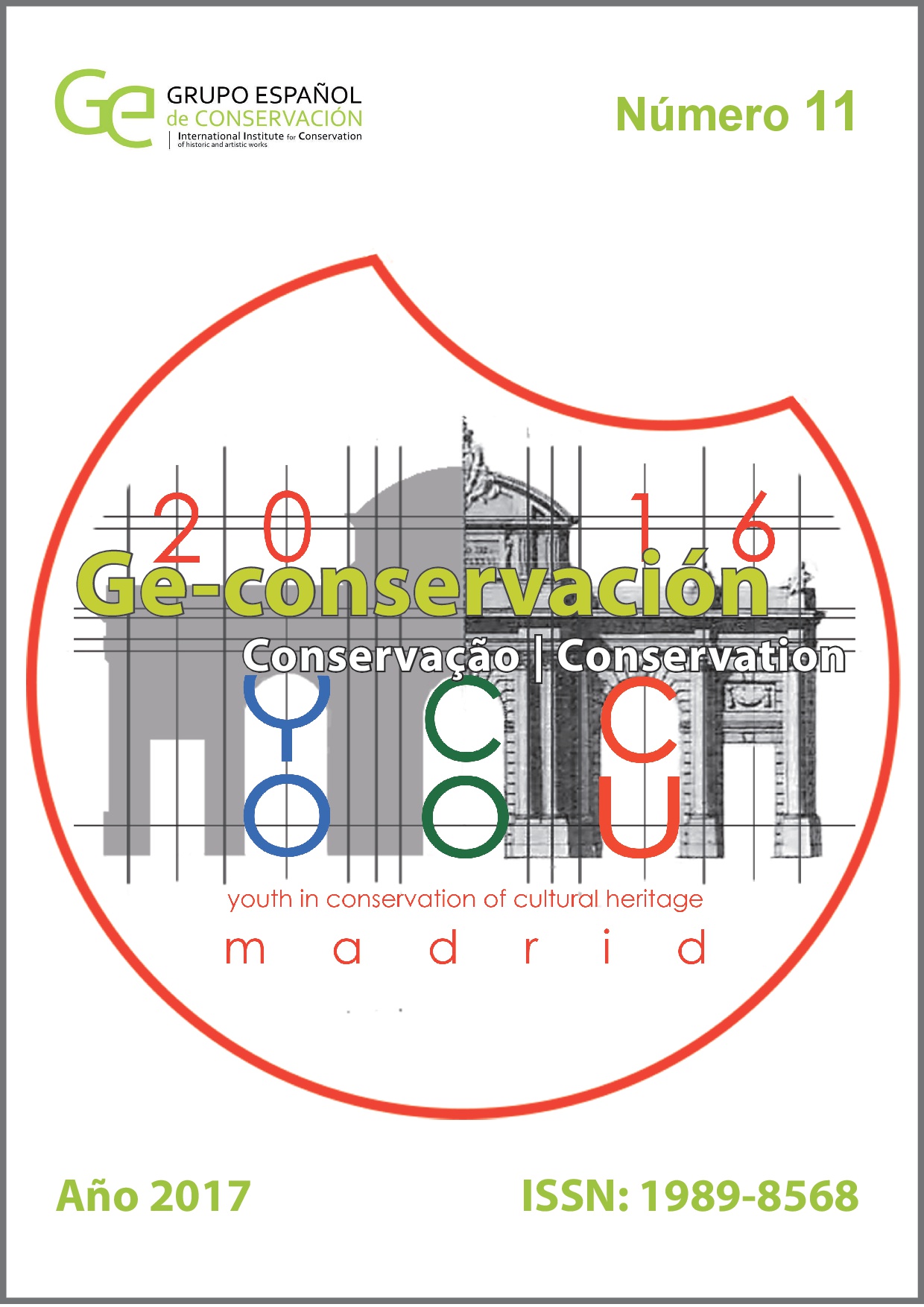 Cómo citar
Bel-Anzué, P., Almagro, A., Sáez Pérez, M. P., & Rodriguez-Navarro, C. (2017). Influence of the calcination process in traditional gypsum with structural behavior. Ge-Conservacion, 11, 79-85. https://doi.org/10.37558/gec.v11i0.456
Los autores conservan los derechos de autor y propiedad intelectual, y garantizan a la revista Ge-Conservación y al GEIIC el Copyright© de los derechos de edición y publicación por cualquier medio y soporte. Las obras de dichos autores además se pueden publicar bajo una Creative Commons Attribution License que autoriza ser distribuido gratuitamente, copiado y exhibido por terceros si se muestra en los créditos la autoría y procedencia original en esta revista, y no se puede obtener ningún beneficio comercial por parte de terceros, ni tampoco se pueden realizar obras derivadas.
Los artículos podrán ser utilizados para fines científicos y formativos, pero nunca con fines comerciales, expresamente sancionado por la Ley.
La información contenida en los artículos es responsabilidad exclusiva de los autores.
La revista Ge-Conservación y los autores pueden establecer por separado acuerdos adicionales para la distribución no exclusiva de la versión de la obra publicada en la revista (por ejemplo, situarlo en un repositorio institucional o publicarlo en un libro), con un reconocimiento de su publicación inicial en esta revista.
Se permite y se anima a los autores a difundir sus trabajos electrónicamente (por ejemplo, en repositorios institucionales o en su propio sitio web) después de su publicación en la revista Ge-Conservación, ya que puede dar lugar a intercambios productivos, así como a una citación más temprana y mayor de los trabajos publicados por el autor.
Los datos personales suministrados por los autores únicamente serán utilizados para los fines de la revista y no serán proporcionados a terceros.