A microbial survey of the museal airborne fungal biodeteriogens
Hortensia Clara Radulescu

Georgeta Roșu

Cristina Popescu

Adriana Ispas

Veronica Lazăr

Pyerina Carmen Ghituleasa
Palabras clave:
tangible heritage, heritage textiles, ethnographical textiles, ethnographical museum, fungal biodeterioration, air microbial load, aerobiology, cellulolytic fungi
Resumen
angible cultural heritage is exposed to multiple environmental risk factors able to affect its integrity and cultural function. Such factors are physical, chemical and also microbiological. Fungal biodeterioration is known to cause aesthetical and structural damage to materials, the effect increasing in the case of improper depositing or accidents like floods or water leakage. At the same time, air contamination with different fungal spores can add more a risking factor for heritage goods safety. Tracing of air biocontamination has a double significance: protection of museum` workers health from hazardous bio-aerosols and the control of the presence of biodeteriogens able to decompose museum pieces. The present paper will present the methodology used for the detection of the fungal species in the air of an ethnographical museum in Romania, in storage rooms, as well as in exposition rooms. Preliminary results show the predominance of fungal genera with known cellulolytic activity, such as Aspergillus, Penicillium and Cladosporium and direct correlation between the values of temperature and humidity and the concentration and types of air cultivable fungal species. Further more, the culture media used for the isolation of the air fungal species proved to be an important factor in the isolation methodology.
Descargas
La descarga de datos todavía no está disponible.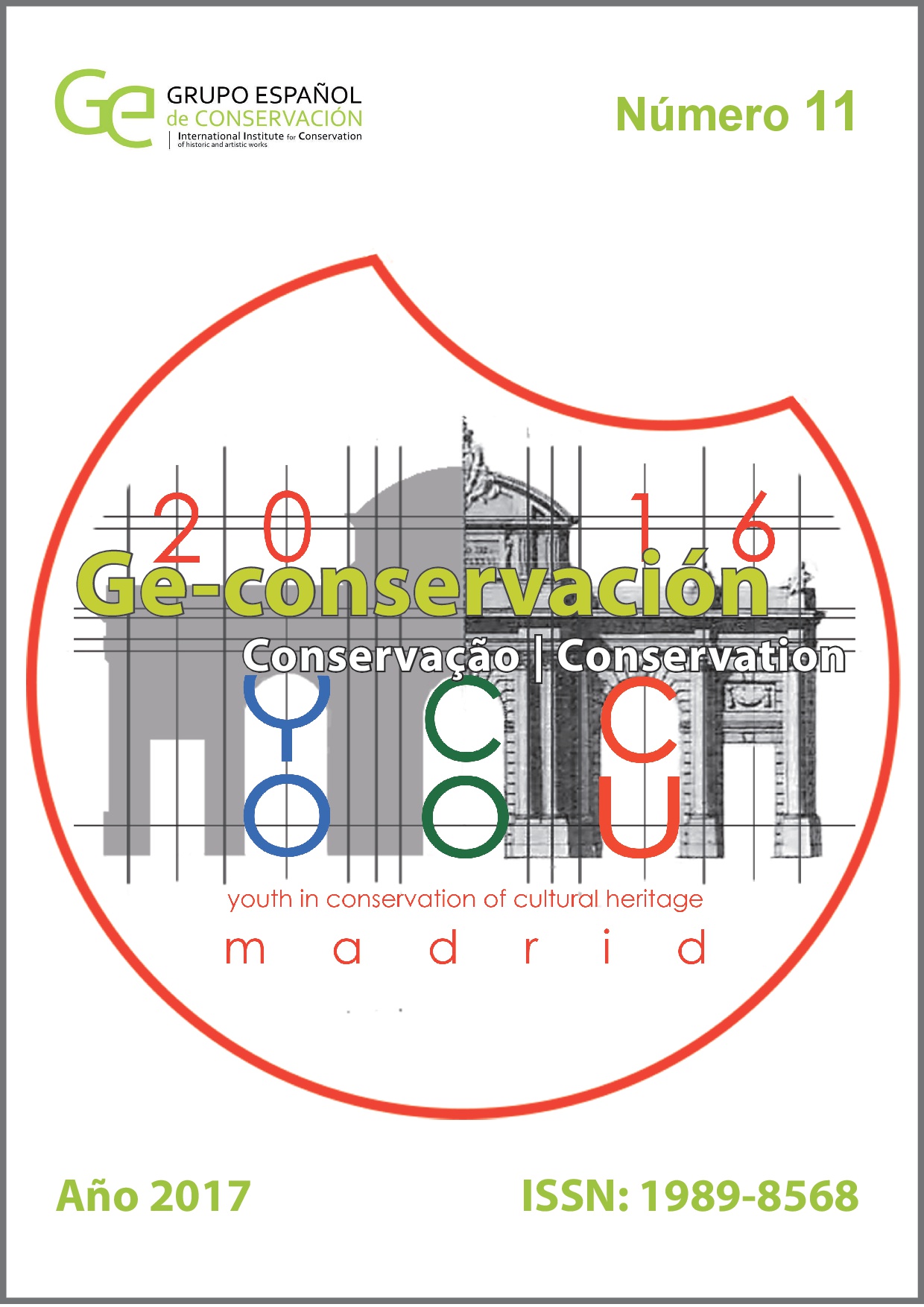 Cómo citar
Radulescu, H. C., Roșu, G., Popescu, C., Ispas, A., Lazăr, V., & Carmen Ghituleasa, P. (2017). A microbial survey of the museal airborne fungal biodeteriogens. Ge-Conservacion, 11, 86-94. https://doi.org/10.37558/gec.v11i0.457
Los autores conservan los derechos de autor y propiedad intelectual, y garantizan a la revista Ge-Conservación y al GEIIC el Copyright© de los derechos de edición y publicación por cualquier medio y soporte. Las obras de dichos autores además se pueden publicar bajo una Creative Commons Attribution License que autoriza ser distribuido gratuitamente, copiado y exhibido por terceros si se muestra en los créditos la autoría y procedencia original en esta revista, y no se puede obtener ningún beneficio comercial por parte de terceros, ni tampoco se pueden realizar obras derivadas.
Los artículos podrán ser utilizados para fines científicos y formativos, pero nunca con fines comerciales, expresamente sancionado por la Ley.
La información contenida en los artículos es responsabilidad exclusiva de los autores.
La revista Ge-Conservación y los autores pueden establecer por separado acuerdos adicionales para la distribución no exclusiva de la versión de la obra publicada en la revista (por ejemplo, situarlo en un repositorio institucional o publicarlo en un libro), con un reconocimiento de su publicación inicial en esta revista.
Se permite y se anima a los autores a difundir sus trabajos electrónicamente (por ejemplo, en repositorios institucionales o en su propio sitio web) después de su publicación en la revista Ge-Conservación, ya que puede dar lugar a intercambios productivos, así como a una citación más temprana y mayor de los trabajos publicados por el autor.
Los datos personales suministrados por los autores únicamente serán utilizados para los fines de la revista y no serán proporcionados a terceros.