The stone in a monumental masonry building of the Tyrrhenian coast (Italy): new data on the relationship between stone properties and structural analysis
Giulia Forestieri

Alessandro Tedesco

Maurizio Ponte
Palabras clave:
conservation, non-destructive tests, structural analysis, heritage
Resumen
In order to assess physical-mechanical properties of building material ("Fuscaldo sandstone"), non-destructive tests have been performed in the main façade of "Palazzo Carelli - Pignatelli" (14th-15th centuries) in Fiumefreddo Bruzio (Italy), situated in the Tyrrhenian Coast (in the South of Italy). Mechanical properties have been assessed through Schmidt hammer hardness and ultrasound velocity tests. Structural analyses have been carried out to assess collapse mechanisms of the entire façade. Results provide a preliminary comprehensive understanding of the decay level and instability of the building.
Descargas
La descarga de datos todavía no está disponible.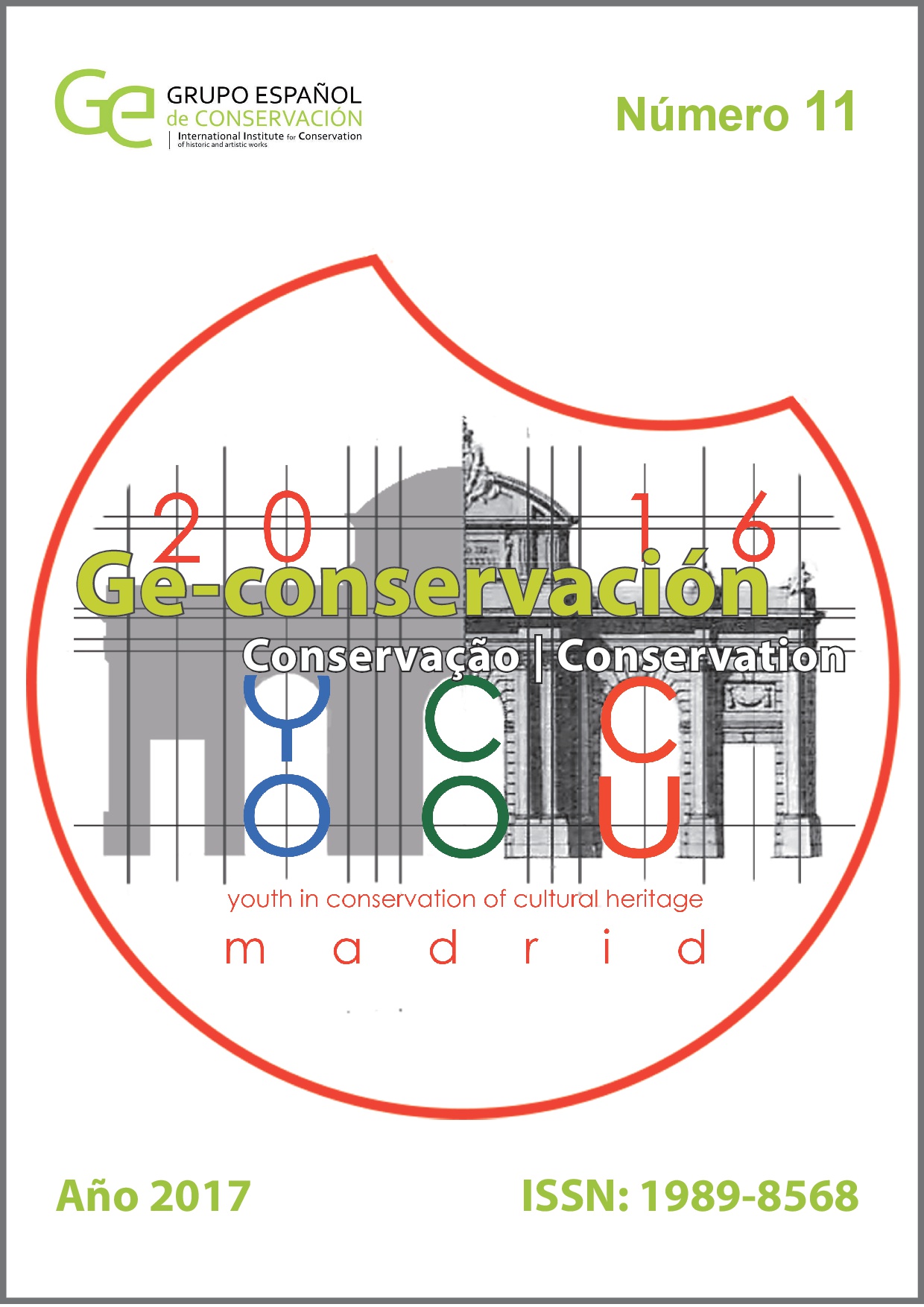 Cómo citar
Forestieri, G., Tedesco, A., & Ponte, M. (2017). The stone in a monumental masonry building of the Tyrrhenian coast (Italy): new data on the relationship between stone properties and structural analysis. Ge-Conservacion, 11, 102-109. https://doi.org/10.37558/gec.v11i0.459
Los autores conservan los derechos de autor y propiedad intelectual, y garantizan a la revista Ge-Conservación y al GEIIC el Copyright© de los derechos de edición y publicación por cualquier medio y soporte. Las obras de dichos autores además se pueden publicar bajo una Creative Commons Attribution License que autoriza ser distribuido gratuitamente, copiado y exhibido por terceros si se muestra en los créditos la autoría y procedencia original en esta revista, y no se puede obtener ningún beneficio comercial por parte de terceros, ni tampoco se pueden realizar obras derivadas.
Los artículos podrán ser utilizados para fines científicos y formativos, pero nunca con fines comerciales, expresamente sancionado por la Ley.
La información contenida en los artículos es responsabilidad exclusiva de los autores.
La revista Ge-Conservación y los autores pueden establecer por separado acuerdos adicionales para la distribución no exclusiva de la versión de la obra publicada en la revista (por ejemplo, situarlo en un repositorio institucional o publicarlo en un libro), con un reconocimiento de su publicación inicial en esta revista.
Se permite y se anima a los autores a difundir sus trabajos electrónicamente (por ejemplo, en repositorios institucionales o en su propio sitio web) después de su publicación en la revista Ge-Conservación, ya que puede dar lugar a intercambios productivos, así como a una citación más temprana y mayor de los trabajos publicados por el autor.
Los datos personales suministrados por los autores únicamente serán utilizados para los fines de la revista y no serán proporcionados a terceros.