Design of didactic units on Heritage conservation. What kind of teaching Heritage conservation topics require?
Manuel Garcia Heras

Javier Pena-Poza

Cristina Gil Puente

Patricia Gomez Mayo

Juan Felix Conde Moreno

Fernando Agua Martinez

Maria-Angeles Villegas Broncano
Palabras clave:
didactic unit, Cultural Heritage, education, conservation, schools
Resumen
he subject of teaching Historic and Cultural Heritage in primary and secondary schools has been widely covered in the last few years. However, the specific topic on Heritage conservation has been barely developed despite its transcendence from the point of view of future preservation of Heritage items. This paper presents the theoretical and practical background in which the design of a didactic unit on Heritage conservation has been based. Among the main objectives which are intended to be covered by such a didactic unit are the significance of the Cultural Heritage, the importance of its conservation, the recognition of Heritage locales, when is important to conserve them, differences between conservation and restoration, the influence of environmental conditions and so on. Possible evaluation activities and suitable schools in which the unit could be put into practice are also some of the subjects dealt with in this contribution.
Descargas
La descarga de datos todavía no está disponible.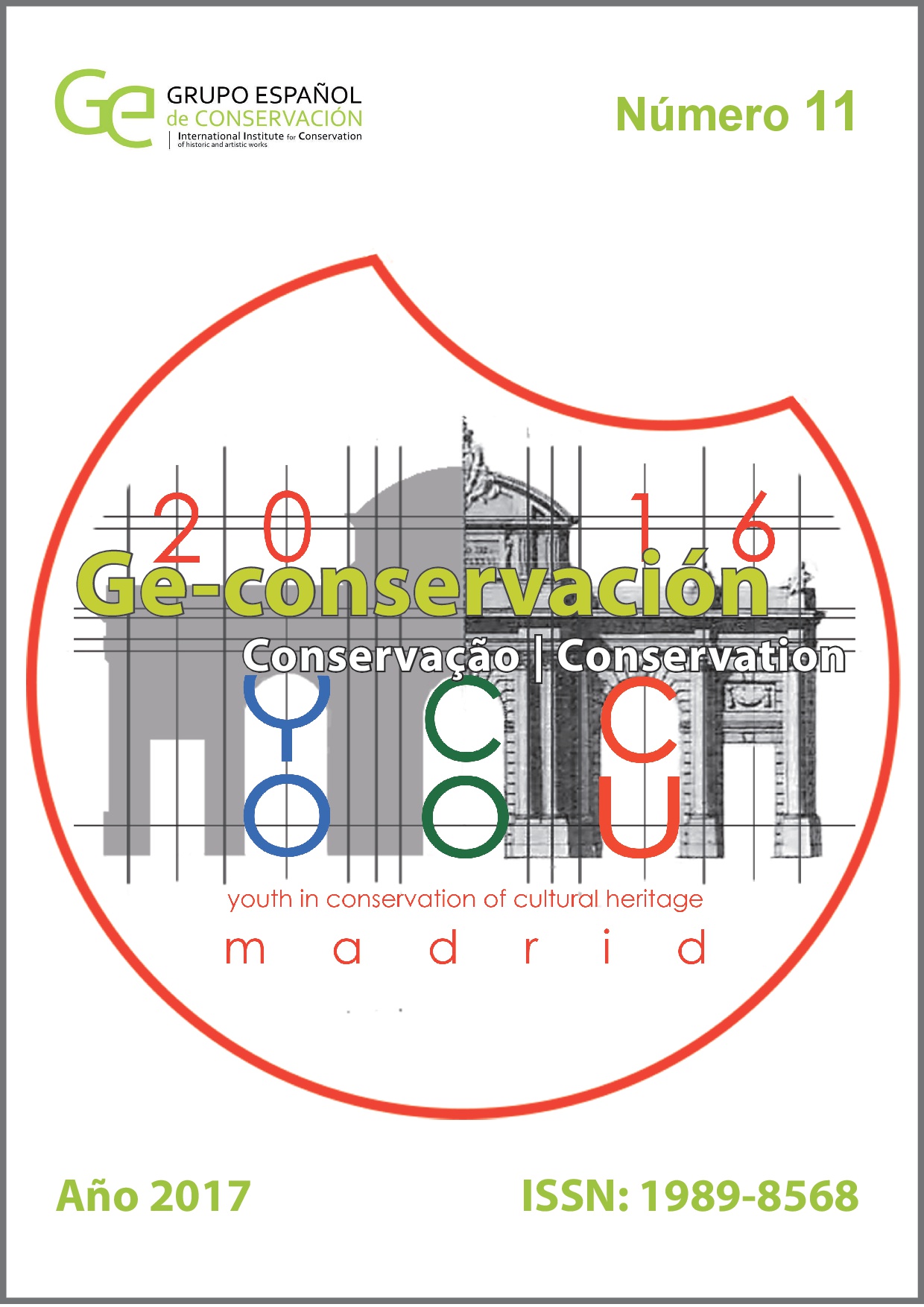 Cómo citar
Garcia Heras, M., Pena-Poza, J., Gil Puente, C., Gomez Mayo, P., Conde Moreno, J. F., Agua Martinez, F., & Villegas Broncano, M.-A. (2017). Design of didactic units on Heritage conservation. What kind of teaching Heritage conservation topics require?. Ge-Conservacion, 11, 121-127. https://doi.org/10.37558/gec.v11i0.462
Los autores conservan los derechos de autor y propiedad intelectual, y garantizan a la revista Ge-Conservación y al GEIIC el Copyright© de los derechos de edición y publicación por cualquier medio y soporte. Las obras de dichos autores además se pueden publicar bajo una Creative Commons Attribution License que autoriza ser distribuido gratuitamente, copiado y exhibido por terceros si se muestra en los créditos la autoría y procedencia original en esta revista, y no se puede obtener ningún beneficio comercial por parte de terceros, ni tampoco se pueden realizar obras derivadas.
Los artículos podrán ser utilizados para fines científicos y formativos, pero nunca con fines comerciales, expresamente sancionado por la Ley.
La información contenida en los artículos es responsabilidad exclusiva de los autores.
La revista Ge-Conservación y los autores pueden establecer por separado acuerdos adicionales para la distribución no exclusiva de la versión de la obra publicada en la revista (por ejemplo, situarlo en un repositorio institucional o publicarlo en un libro), con un reconocimiento de su publicación inicial en esta revista.
Se permite y se anima a los autores a difundir sus trabajos electrónicamente (por ejemplo, en repositorios institucionales o en su propio sitio web) después de su publicación en la revista Ge-Conservación, ya que puede dar lugar a intercambios productivos, así como a una citación más temprana y mayor de los trabajos publicados por el autor.
Los datos personales suministrados por los autores únicamente serán utilizados para los fines de la revista y no serán proporcionados a terceros.