Nopal mucilage as hydration agent for quicklime; extraction methods
Angélica Pérez Ramos

Luis Fernando Guerrero Baca

Jose Luz González Chávez

Ricardo Prado Núñez
Palabras clave:
slaked lime putty, nopal mucilage, galacturonic acid, quicklime slaking process, acid base titrations, extraction methods
Resumen
The main objective of this research is to select an extraction method of nopal mucilage to be used as a hydration agent at a suitable concentration for slaking quicklime in order to obtain lime putties with better rheological and mechanical properties. An experimental phase was performed where different extraction methods to obtain nopal mucilage were tested. This made it possible to classify them into two groups: methods that require water to get the mucilage, and methods that obtain the mucilage directly from the plant. Galacturonic acid present in mucilage composition seemed to be the main cause of the chemical interaction between lime and mucilage. As a result, mucilage that presented the largest amount of galacturonic acid according to acid base titration curves was chosen as the best one to work with. It was concluded that the amount of galacturonic acid present in mucilage is not influenced by rising temperature and constant stirring during its extraction process, nor the nopal species or cladodes dimension. Furthermore, it was observed that mucilage viscosity obtained through the different extraction methods has a strong impact on the slaking process behavior and in the consistency of the resulting putties.
Descargas
La descarga de datos todavía no está disponible.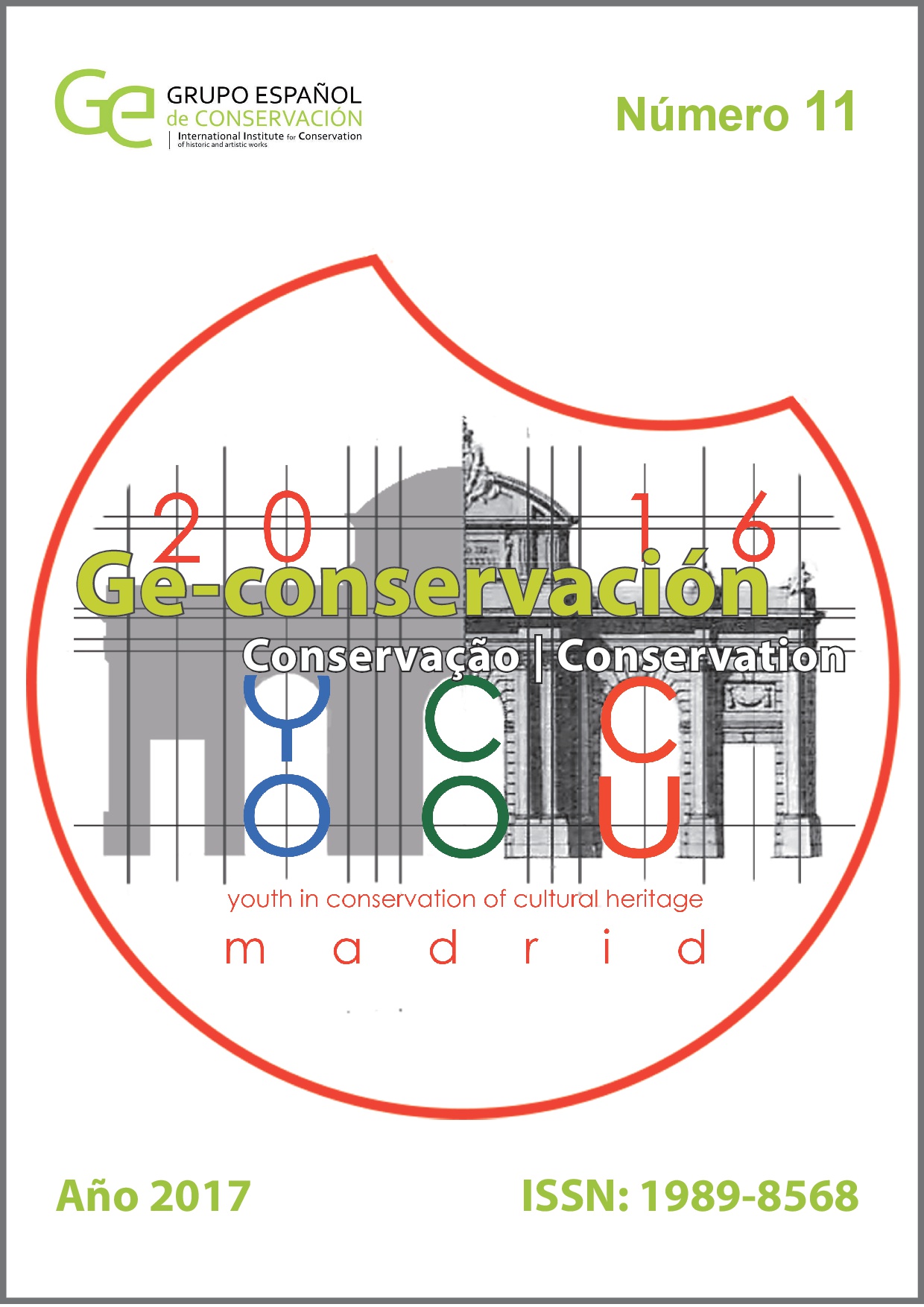 Cómo citar
Pérez Ramos, A., Guerrero Baca, L. F., González Chávez, J. L., & Prado Núñez, R. (2017). Nopal mucilage as hydration agent for quicklime; extraction methods. Ge-Conservacion, 11, 189-195. https://doi.org/10.37558/gec.v11i0.475
Los autores conservan los derechos de autor y propiedad intelectual, y garantizan a la revista Ge-Conservación y al GEIIC el Copyright© de los derechos de edición y publicación por cualquier medio y soporte. Las obras de dichos autores además se pueden publicar bajo una Creative Commons Attribution License que autoriza ser distribuido gratuitamente, copiado y exhibido por terceros si se muestra en los créditos la autoría y procedencia original en esta revista, y no se puede obtener ningún beneficio comercial por parte de terceros, ni tampoco se pueden realizar obras derivadas.
Los artículos podrán ser utilizados para fines científicos y formativos, pero nunca con fines comerciales, expresamente sancionado por la Ley.
La información contenida en los artículos es responsabilidad exclusiva de los autores.
La revista Ge-Conservación y los autores pueden establecer por separado acuerdos adicionales para la distribución no exclusiva de la versión de la obra publicada en la revista (por ejemplo, situarlo en un repositorio institucional o publicarlo en un libro), con un reconocimiento de su publicación inicial en esta revista.
Se permite y se anima a los autores a difundir sus trabajos electrónicamente (por ejemplo, en repositorios institucionales o en su propio sitio web) después de su publicación en la revista Ge-Conservación, ya que puede dar lugar a intercambios productivos, así como a una citación más temprana y mayor de los trabajos publicados por el autor.
Los datos personales suministrados por los autores únicamente serán utilizados para los fines de la revista y no serán proporcionados a terceros.