The utility of the application of new three-dimensional technologies for the study and dissemination of heritage from a historical-technical perspective: case studies
Irene Ruiz Bazán

Universidad de Zaragoza

Gianluca Emilio Ennio Vita

Politecnico di Milano
Palabras clave:
convergent photogrammetry, Convergent photogrammetry, building restoration, Building Restoration, 3D mode, 3d model, heritage research, Heritage Research
Resumen
In this article we analyse the different applications of convergent photogrammetry in three different cases. In the first one, the application in the beginning of a restoration project of the Chapel of the Purification in the Church of the Carmine in Milan (Italy), where we will explain the usefulness of this technology. In the second case the utility of the three-dimensional reproduction made to the hidden murals at the Collegiate Church of Santa Maria in Daroca (Spain) for its diffusion and finally the application of this technique as a tool for communicating the results of research in projects. The confrontation of these cases in which the same technology is applied at various stages of the process of conservation and study of heritage, with distinctly different purposes, aims both to deepen their usefulness, such as delineating its limits and requirements.
Descargas
La descarga de datos todavía no está disponible.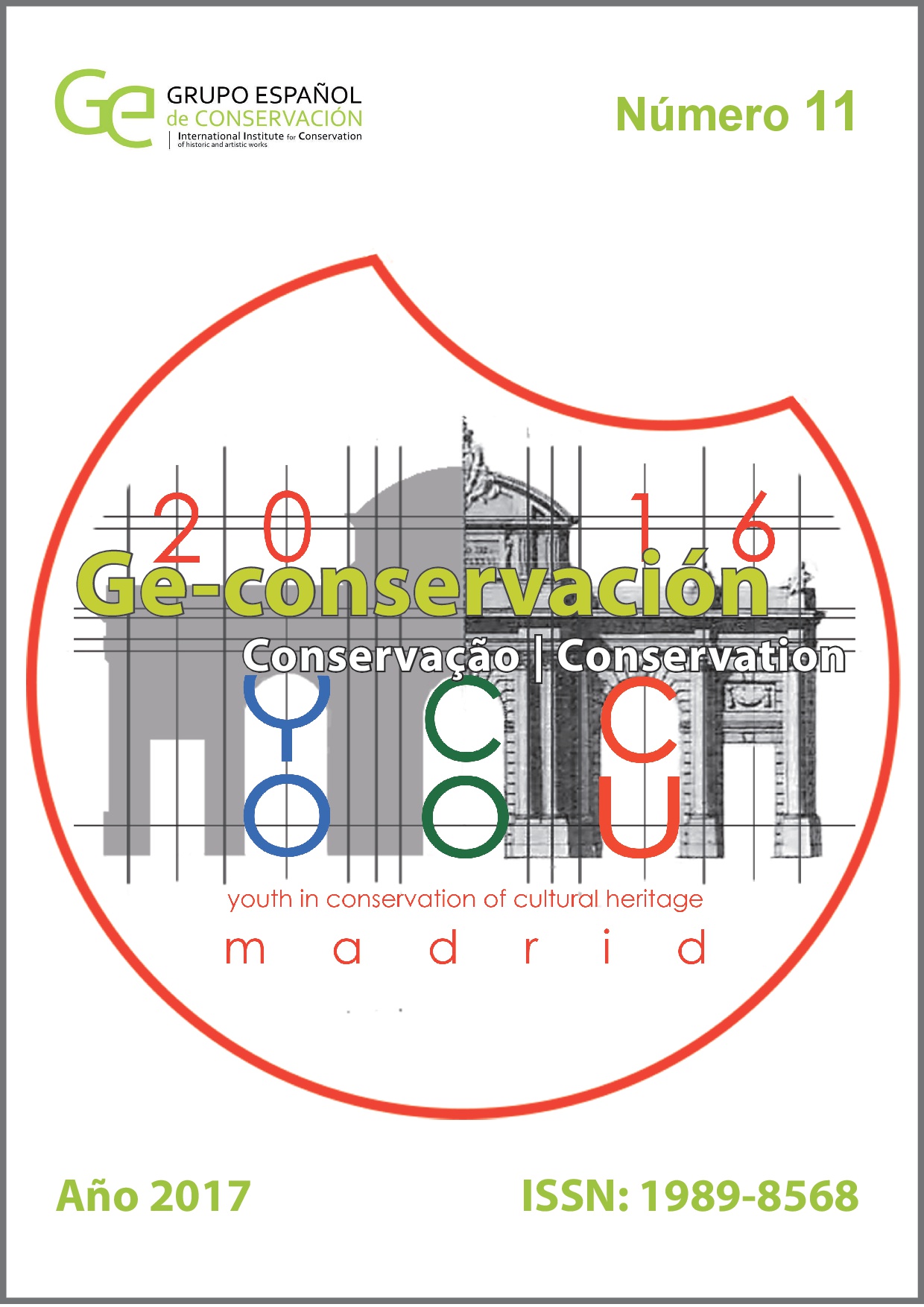 Cómo citar
Ruiz Bazán, I., & Vita, G. E. E. (2017). The utility of the application of new three-dimensional technologies for the study and dissemination of heritage from a historical-technical perspective: case studies. Ge-Conservacion, 11, 208-213. https://doi.org/10.37558/gec.v11i0.480
Los autores conservan los derechos de autor y propiedad intelectual, y garantizan a la revista Ge-Conservación y al GEIIC el Copyright© de los derechos de edición y publicación por cualquier medio y soporte. Las obras de dichos autores además se pueden publicar bajo una Creative Commons Attribution License que autoriza ser distribuido gratuitamente, copiado y exhibido por terceros si se muestra en los créditos la autoría y procedencia original en esta revista, y no se puede obtener ningún beneficio comercial por parte de terceros, ni tampoco se pueden realizar obras derivadas.
Los artículos podrán ser utilizados para fines científicos y formativos, pero nunca con fines comerciales, expresamente sancionado por la Ley.
La información contenida en los artículos es responsabilidad exclusiva de los autores.
La revista Ge-Conservación y los autores pueden establecer por separado acuerdos adicionales para la distribución no exclusiva de la versión de la obra publicada en la revista (por ejemplo, situarlo en un repositorio institucional o publicarlo en un libro), con un reconocimiento de su publicación inicial en esta revista.
Se permite y se anima a los autores a difundir sus trabajos electrónicamente (por ejemplo, en repositorios institucionales o en su propio sitio web) después de su publicación en la revista Ge-Conservación, ya que puede dar lugar a intercambios productivos, así como a una citación más temprana y mayor de los trabajos publicados por el autor.
Los datos personales suministrados por los autores únicamente serán utilizados para los fines de la revista y no serán proporcionados a terceros.