From the artwork to the "demo" artwork. Case Study on the conservation and degradation of new media artworks
Diego Mellado Martínez

Lino García Morales
Palabras clave:
New media art conservation, computer-based artwork conservation., evolutionary conservation, re-creation, demo artwork, computer-based artwork conservation
Resumen
This paper describes the study case of the conservation of a new media artwork, Cannula, by Daniel Canogar (2016). This artwork combines and distorts videos downloaded from YouTube in order to create an oil-like live painting. Main new media conservation strategies are first introduced and discussed. Following, "re-creation" is presented as the best option to deal with the conservation of the elements that compose the artwork, such as its hardware –display, computer- and its software –custom made applications that combine and distort videos-. This paper focuses on a key element to the artwork that cannot be conserved by any of the exposed means: the Internet. YouTube is used to provide the videos to be used. If the service is not reachable –the connection is lost or YouTube is no longer available- the artwork will cease to exist as the artists conceived it. Storing in the memory of the computer the contents previously used provide a mean to re-use them if needed. In that case, the artwork will no longer be such –according to the artists, the live connection to the Internet defines the artwork- but a "demonstration". A self-documentation state defined as "demo", which, according to the authors, represents the closest possible experience to the original artwork.
Descargas
La descarga de datos todavía no está disponible.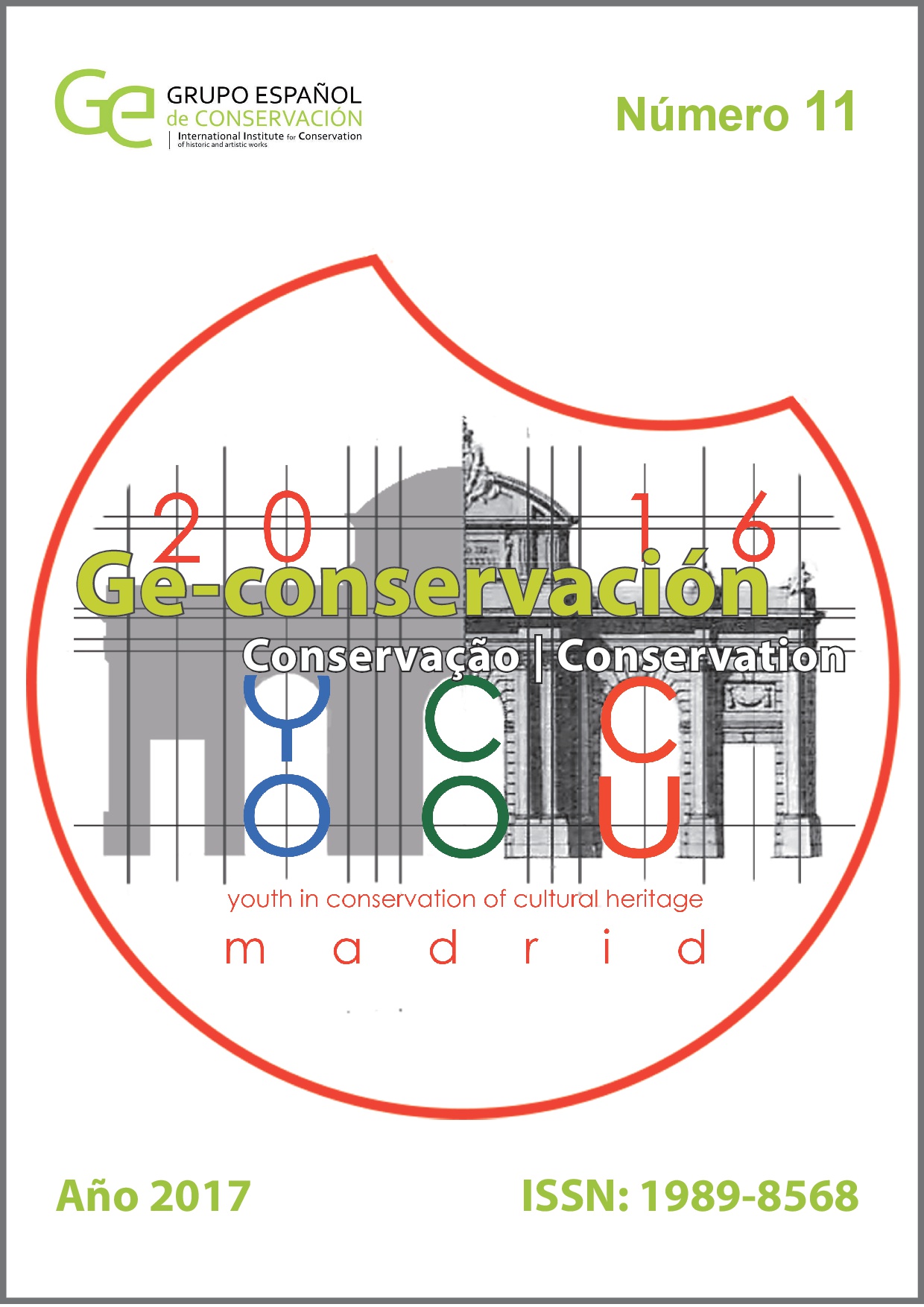 Cómo citar
Mellado Martínez, D., & García Morales, L. (2017). From the artwork to the "demo" artwork. Case Study on the conservation and degradation of new media artworks. Ge-Conservacion, 11, 272-277. https://doi.org/10.37558/gec.v11i0.505
Los autores conservan los derechos de autor y propiedad intelectual, y garantizan a la revista Ge-Conservación y al GEIIC el Copyright© de los derechos de edición y publicación por cualquier medio y soporte. Las obras de dichos autores además se pueden publicar bajo una Creative Commons Attribution License que autoriza ser distribuido gratuitamente, copiado y exhibido por terceros si se muestra en los créditos la autoría y procedencia original en esta revista, y no se puede obtener ningún beneficio comercial por parte de terceros, ni tampoco se pueden realizar obras derivadas.
Los artículos podrán ser utilizados para fines científicos y formativos, pero nunca con fines comerciales, expresamente sancionado por la Ley.
La información contenida en los artículos es responsabilidad exclusiva de los autores.
La revista Ge-Conservación y los autores pueden establecer por separado acuerdos adicionales para la distribución no exclusiva de la versión de la obra publicada en la revista (por ejemplo, situarlo en un repositorio institucional o publicarlo en un libro), con un reconocimiento de su publicación inicial en esta revista.
Se permite y se anima a los autores a difundir sus trabajos electrónicamente (por ejemplo, en repositorios institucionales o en su propio sitio web) después de su publicación en la revista Ge-Conservación, ya que puede dar lugar a intercambios productivos, así como a una citación más temprana y mayor de los trabajos publicados por el autor.
Los datos personales suministrados por los autores únicamente serán utilizados para los fines de la revista y no serán proporcionados a terceros.