The Efficiency of Polymeric Coatings for the Conservation of Ancient Egyptian Wall Paintings, El-Qurna Necropolis, Upper Egypt
Hussein Hassan Marey Mahmoud

Department of conservation, Faculty of Archaeology, Cairo University, Egypt
Resumen
The present work aims at studying the long-term protection of damaged Egyptian wall paintings (tomb of Ameneminet, No. TT277, Ramesside Period), El-Qurna necropolis, Upper Egypt. To achieve this, the efficiency of some polymeric materials for the consolidation of laboratory samples similar to the ancient murals was evaluated. The climatic conditions of the area play an important role in accelerating the damages process of the paintings. Crystallization cycles of salts exert additional pressure by producing cracking, powdering and flaking, in addition to pulverization of the pictorial layers. Different commercial products based on acrylic and silicone consolidation materials were tested in this study. The evaluation of the consolidation process was performed using the visual observation, scanning electron microscopy (SEM), contact angle values, color measurements and determining the physical and mechanical properties. The results showed that the superior behavior of water repellency was obtained by the micro emulsion Wacker VP 1311. Moreover, the application of the stone strengthener Wacker OH and the acrylic co-polymer Paraloid B82 helped in improving the physical and mechanical properties of the treated samples. In conclusion, Wacker OH could be used to enhance the durability of the inner matrix; however, the application of the microemulsion Wacker VP 1311 as a protective layer will increase the material's water repellency in areas subjected to moisture or ground water attack.
Descargas
La descarga de datos todavía no está disponible.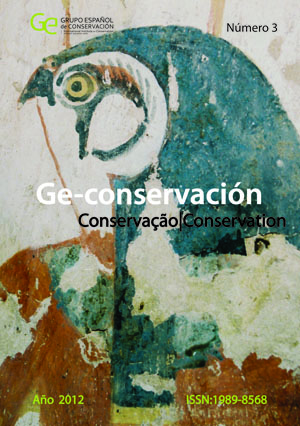 Cómo citar
Marey Mahmoud, H. H. (2012). The Efficiency of Polymeric Coatings for the Conservation of Ancient Egyptian Wall Paintings, El-Qurna Necropolis, Upper Egypt. Ge-Conservacion, 3, 89-104. https://doi.org/10.37558/gec.v3i0.97
Los autores conservan los derechos de autor y propiedad intelectual, y garantizan a la revista Ge-Conservación y al GEIIC el Copyright© de los derechos de edición y publicación por cualquier medio y soporte. Las obras de dichos autores además se pueden publicar bajo una Creative Commons Attribution License que autoriza ser distribuido gratuitamente, copiado y exhibido por terceros si se muestra en los créditos la autoría y procedencia original en esta revista, y no se puede obtener ningún beneficio comercial por parte de terceros, ni tampoco se pueden realizar obras derivadas.
Los artículos podrán ser utilizados para fines científicos y formativos, pero nunca con fines comerciales, expresamente sancionado por la Ley.
La información contenida en los artículos es responsabilidad exclusiva de los autores.
La revista Ge-Conservación y los autores pueden establecer por separado acuerdos adicionales para la distribución no exclusiva de la versión de la obra publicada en la revista (por ejemplo, situarlo en un repositorio institucional o publicarlo en un libro), con un reconocimiento de su publicación inicial en esta revista.
Se permite y se anima a los autores a difundir sus trabajos electrónicamente (por ejemplo, en repositorios institucionales o en su propio sitio web) después de su publicación en la revista Ge-Conservación, ya que puede dar lugar a intercambios productivos, así como a una citación más temprana y mayor de los trabajos publicados por el autor.
Los datos personales suministrados por los autores únicamente serán utilizados para los fines de la revista y no serán proporcionados a terceros.