Conservation of the contemporary public sculptures of Granada. Protecting the city's Heritage
María Carmen Bellido Márquez
Palabras clave:
public sculpture, conservation, bronze, city of Granada, contemporary art
Resumen
Contemporary urban sculpture is an integral element of the landscape of the city of Granada (Spain). Therefore, the objetive of this research is to determine the conservation status of several public sculptures -produced by Miguel Moreno Romera- situated in the city and which currently evidence the need to improve their conservation, through restoration work or by optimising their preservation conditions. The study results show the alterations in the works, evaluates their damage, detecting possible deterioration and proposing interventions in order to reduce these problems, activating a preventive action protocol. In conclusion, there is a significant need to improve the conservation of these public sculptures by restoring their appearance, which also has positive effects on the city because they are an integral part of the urban fabric and bring the city closer to citizens.
Descargas
La descarga de datos todavía no está disponible.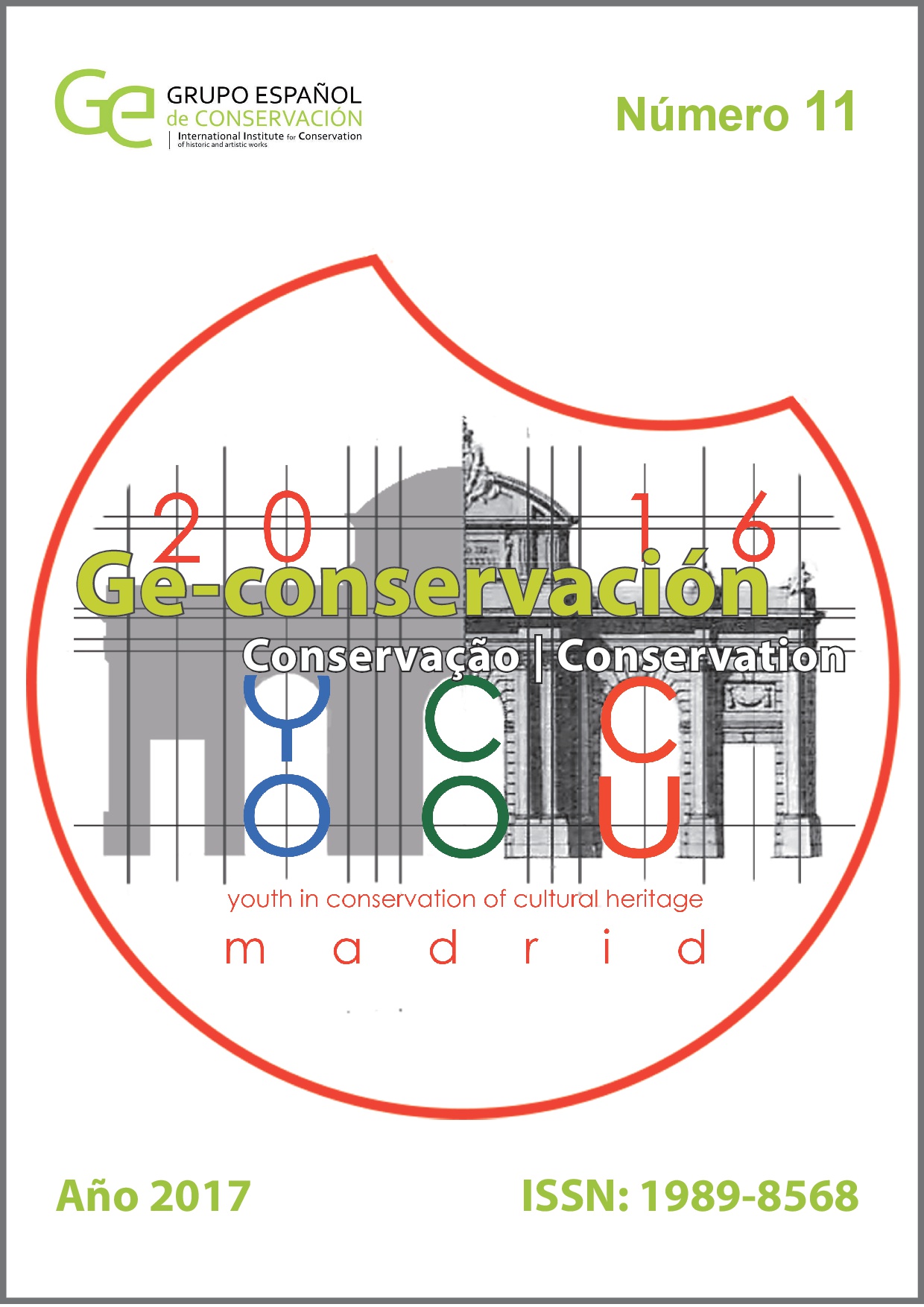 Cómo citar
Bellido Márquez, M. C. (2017). Conservation of the contemporary public sculptures of Granada. Protecting the city's Heritage. Ge-Conservacion, 11, 134-140. https://doi.org/10.37558/gec.v11i0.464
Los autores conservan los derechos de autor y propiedad intelectual, y garantizan a la revista Ge-Conservación y al GEIIC el Copyright© de los derechos de edición y publicación por cualquier medio y soporte. Las obras de dichos autores además se pueden publicar bajo una Creative Commons Attribution License que autoriza ser distribuido gratuitamente, copiado y exhibido por terceros si se muestra en los créditos la autoría y procedencia original en esta revista, y no se puede obtener ningún beneficio comercial por parte de terceros, ni tampoco se pueden realizar obras derivadas.
Los artículos podrán ser utilizados para fines científicos y formativos, pero nunca con fines comerciales, expresamente sancionado por la Ley.
La información contenida en los artículos es responsabilidad exclusiva de los autores.
La revista Ge-Conservación y los autores pueden establecer por separado acuerdos adicionales para la distribución no exclusiva de la versión de la obra publicada en la revista (por ejemplo, situarlo en un repositorio institucional o publicarlo en un libro), con un reconocimiento de su publicación inicial en esta revista.
Se permite y se anima a los autores a difundir sus trabajos electrónicamente (por ejemplo, en repositorios institucionales o en su propio sitio web) después de su publicación en la revista Ge-Conservación, ya que puede dar lugar a intercambios productivos, así como a una citación más temprana y mayor de los trabajos publicados por el autor.
Los datos personales suministrados por los autores únicamente serán utilizados para los fines de la revista y no serán proporcionados a terceros.