Behaviour of brick-NHL render systems in presence of NaCl solution
Laura Falchi

Laura Speri

Eleonora Balliana

Martina Zuena

Elisabetta Zendri
Palabras clave:
Render, double-layer systems, salt transport, brick, rising damp
Resumen
Double-layer renders were formulated for ensuring salt migration, ancient masonries conservation and environmental sustainability. Thus, natural hydraulic lime as binder and recycled aggregates from render wastes were selected. The properties were adjusted by adding an air-entraining agent in the inner layer and different percentages of water-repellent admixtures in the outer layer. The systems were applied on bricks and subjected to rising damp-evaporation cycles, for investigating their behaviour and properties in respect to NaCl migration. Mono-material prismatic render specimens were also studied. Water vapour permeability, capillary absorption, drying behaviour, compressive strength, mechanical resistance, conductivity and porosity of each formulation were evaluated. Good durability was observed whenever the render layers had different microstructure, either there was salts deposition within the lower layer,or if there was tefflorescences formation. If the layers had similar structure, deposition of salt at the brick-render interface occurred causing damages to the substrate.
Descargas
La descarga de datos todavía no está disponible.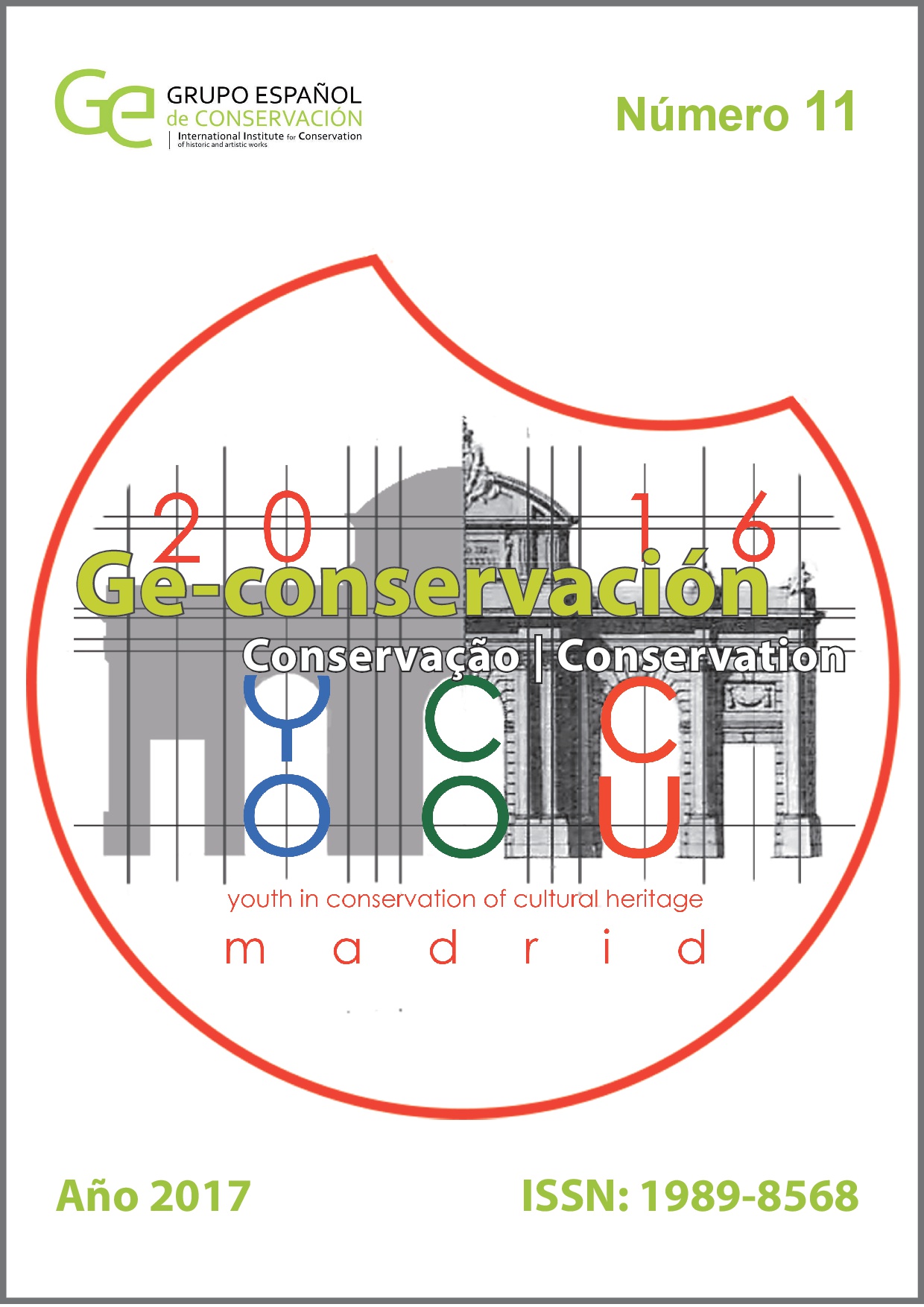 Cómo citar
Falchi, L., Speri, L., Balliana, E., Zuena, M., & Zendri, E. (2017). Behaviour of brick-NHL render systems in presence of NaCl solution. Ge-Conservacion, 11, 157-164. https://doi.org/10.37558/gec.v11i0.468
Los autores conservan los derechos de autor y propiedad intelectual, y garantizan a la revista Ge-Conservación y al GEIIC el Copyright© de los derechos de edición y publicación por cualquier medio y soporte. Las obras de dichos autores además se pueden publicar bajo una Creative Commons Attribution License que autoriza ser distribuido gratuitamente, copiado y exhibido por terceros si se muestra en los créditos la autoría y procedencia original en esta revista, y no se puede obtener ningún beneficio comercial por parte de terceros, ni tampoco se pueden realizar obras derivadas.
Los artículos podrán ser utilizados para fines científicos y formativos, pero nunca con fines comerciales, expresamente sancionado por la Ley.
La información contenida en los artículos es responsabilidad exclusiva de los autores.
La revista Ge-Conservación y los autores pueden establecer por separado acuerdos adicionales para la distribución no exclusiva de la versión de la obra publicada en la revista (por ejemplo, situarlo en un repositorio institucional o publicarlo en un libro), con un reconocimiento de su publicación inicial en esta revista.
Se permite y se anima a los autores a difundir sus trabajos electrónicamente (por ejemplo, en repositorios institucionales o en su propio sitio web) después de su publicación en la revista Ge-Conservación, ya que puede dar lugar a intercambios productivos, así como a una citación más temprana y mayor de los trabajos publicados por el autor.
Los datos personales suministrados por los autores únicamente serán utilizados para los fines de la revista y no serán proporcionados a terceros.