Nanostructured coatings for the protection of textiles and paper
Giulia Mazzon

Irene Zanocco

Muhammad Zahid

Ilker Bayer

Athanassia Athanassiou

Laura Falchi

Eleonora Balliana

Elisabetta Zendri
Palabras clave:
textiles, paper, water repellence, protectives, coatings
Resumen
Conservation environment with high humidity content or exposure to liquid water are directly linked to degradation of cellulosic materials, such as paper and fabrics. This research had as main objective the development of formulations based on two water-repellent products commercially available: a fluoroacrylic co-polymer and a polydimethylsiloxane. The purpose was to test their applicability to paper and textiles, both ancient and modern. Different analytical techniques have been used: FTIR-ATR spectroscopy, colorimetric analysis, observations by SEM-EDX and light microscopy, contact angle measurement and mechanical strength. Applications were carried out by spray and immersion achieving a systematization of the method and the choice of non-toxic solvents. Two of the four formulations tested were prepared with the addition also of silica nanoparticles. The results highlighted the compatibility and effectiveness of fluoroacrylic polymer with low nanosilica percentages applied by immersion.
Descargas
La descarga de datos todavía no está disponible.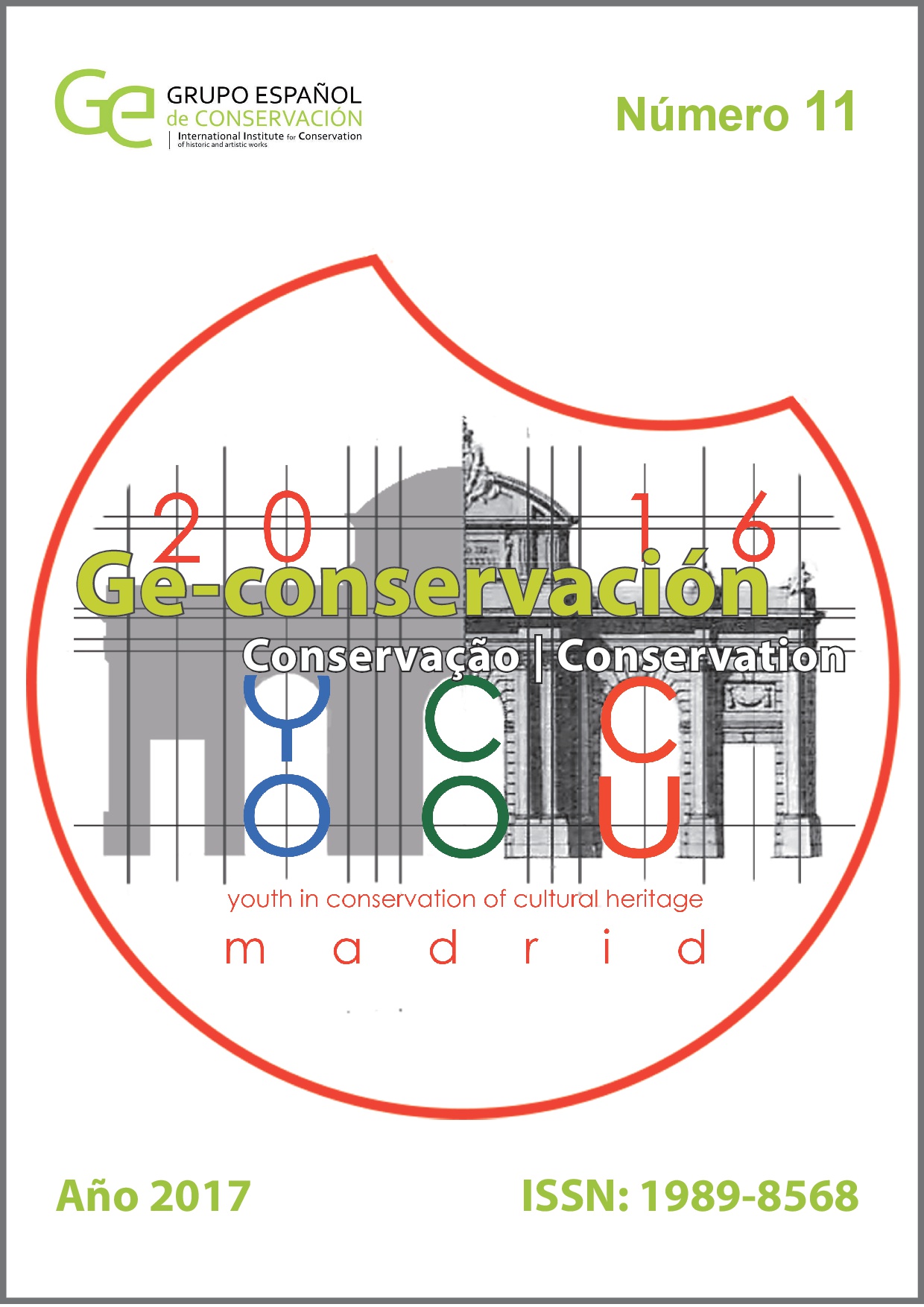 Cómo citar
Mazzon, G., Zanocco, I., Zahid, M., Bayer, I., Athanassiou, A., Falchi, L., Balliana, E., & Zendri, E. (2017). Nanostructured coatings for the protection of textiles and paper. Ge-Conservacion, 11, 180-188. https://doi.org/10.37558/gec.v11i0.474
Los autores conservan los derechos de autor y propiedad intelectual, y garantizan a la revista Ge-Conservación y al GEIIC el Copyright© de los derechos de edición y publicación por cualquier medio y soporte. Las obras de dichos autores además se pueden publicar bajo una Creative Commons Attribution License que autoriza ser distribuido gratuitamente, copiado y exhibido por terceros si se muestra en los créditos la autoría y procedencia original en esta revista, y no se puede obtener ningún beneficio comercial por parte de terceros, ni tampoco se pueden realizar obras derivadas.
Los artículos podrán ser utilizados para fines científicos y formativos, pero nunca con fines comerciales, expresamente sancionado por la Ley.
La información contenida en los artículos es responsabilidad exclusiva de los autores.
La revista Ge-Conservación y los autores pueden establecer por separado acuerdos adicionales para la distribución no exclusiva de la versión de la obra publicada en la revista (por ejemplo, situarlo en un repositorio institucional o publicarlo en un libro), con un reconocimiento de su publicación inicial en esta revista.
Se permite y se anima a los autores a difundir sus trabajos electrónicamente (por ejemplo, en repositorios institucionales o en su propio sitio web) después de su publicación en la revista Ge-Conservación, ya que puede dar lugar a intercambios productivos, así como a una citación más temprana y mayor de los trabajos publicados por el autor.
Los datos personales suministrados por los autores únicamente serán utilizados para los fines de la revista y no serán proporcionados a terceros.